 The Environmental Mediation Initiative
The project
The Environmental Mediation Initiative is a European network of organizations specialized in environmental conflict mediation. Throughout the past year, the partners have been engaged in a process of exchanging tools, visions, reflections, and best practices on environmental conflicts. Under the umbrella of the Erasmus+ project "New European training curricula for facilitating environmental conflicts".
As a result of the exchanges, two guidance documents have been co-produced, available to practitioners and local authorities for improving their capacities to address environmental conflicts.
Key idea
Strengthening the capacities for dialogue among the population is essential to deal with environmental conflicts, participatory co-management approaches increase social learning (willingness to learn and dialogue across difference) and social justice benefits (respect for local knowledge and measures that redress the inequitable distribution of environmental impacts and policies)
Partners
LechtAlps (Austria), Altekio (Spain), Istituto di Ecologia Applicata (Italy), Dialogues (Sweden), Flow-Ing (France), Callisto (Greece)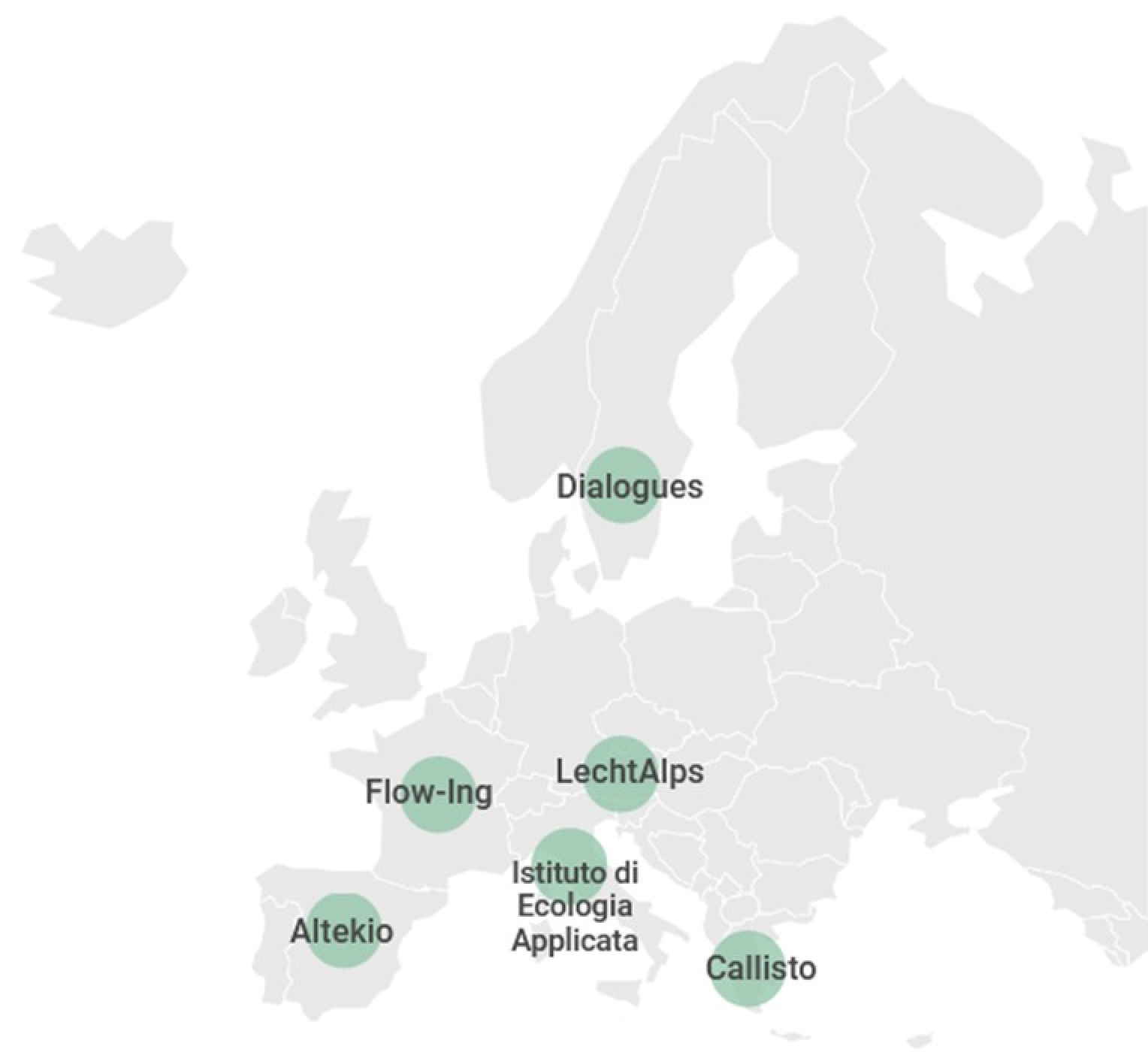 Why?
At the European level, tension between stakeholder groups over the use and protection of the natural environment and resources are unfolding in new directions due to various developments (e.g., climate and biodiversity crisis). The need for environmental facilitation and mediation for alternative dispute resolution in the European context has only recently been recognized, with most examples dating from the 2000s and most prominent case studies from the last decade. The actors involved in these conflicts often lack the knowledge and skills (e.g. empathy and listening skills, negotiation tools, etc.) to manage them, and there is also a lack of awareness of the potential of facilitation and mediation among stakeholders to reduce and manage conflicts over important environmental issues.
 In this scenario, facilitation and mediation of environmental conflicts is a key for:
Improving engagement, participation and compliance with environmental policy.

Avoiding conflict escalation and social polarization.

Improving social justice in conflicts.
Partners organizations wish to co-create tools and good practices for all the stakeholders involved in environmental conflicts to improve their abilities and capacities in dealing with the future environmental conflicts.
Good practice toolkit for facilitation and mediation of environmental conflicts
Description
This guidance aims to provide tools and methods reflecting good practices for facilitating and mediating environmental conflicts. These tools and methods have been either tested in previous case studies or are suggested as eligible for being employed in future instances of environmental conflict. Selected tools and methods can be embedded in training programs of environmental conflict facilitation/ mediation. The guidance provides examples of training modules where these methods have been used.
How it can be used
The toolkit can be used by professional associations, primarily, facilitators' and mediators' organizations to update their training programs in order to integrate environmental conflict or develop and deliver new training programs explicitly addressing environmental conflict. Selected tools and methods can also be used by professional trainers and in train-the-trainer programs. The toolkit can further help local or regional authorities structure calls for environmental facilitation/ mediation and enrich them with desirable deliverables according to each environmental conflict context.
Download: Good Practice Toolkit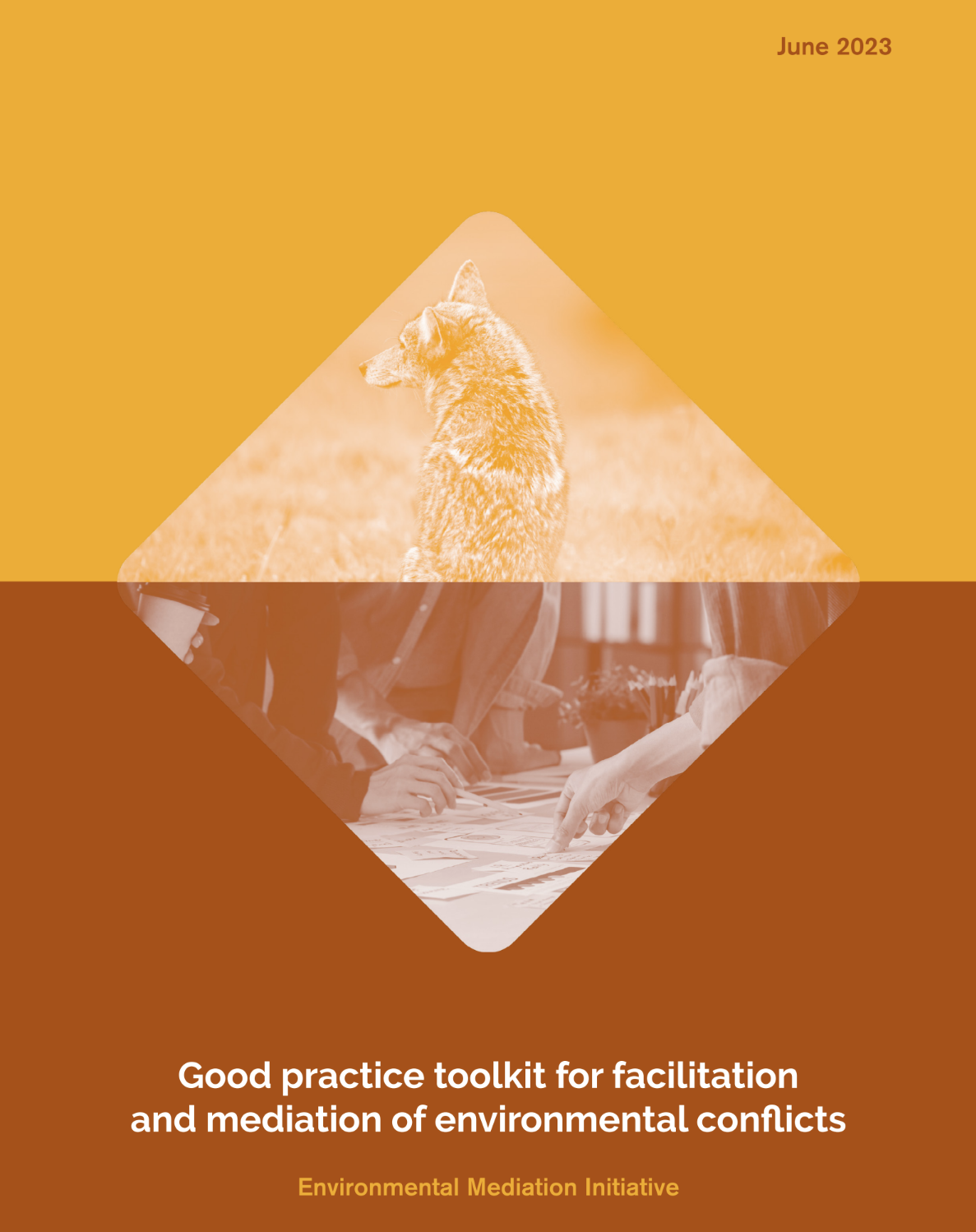 A transformative approach to the mediation of environmental conflicts: from entry to exit points
Description
This document draws on the experiences of the Environmental Mediation Initiative (EMI) to provide an overview of the mediation approaches that are used by its members to address environmental conflicts. It begins with an overview of environmental conflicts and of different approaches to understanding them. It then explores in more detail a diverse set of principles and methods through which mediation can have a transformative effect on the social relations of the parties involved and on the conflict itself. It discusses the important role of the mediator. It presents a list of case studies where different aspects of conflict mediation were implemented through a diverse set of mediation tools and methods aimed at bringing clarity to a conflict situation and, in some instances transforming the relations between the parties involved.
How it can be used
This guidance can be used by people related to situations of environmental conflict who want to increase skills to mediate in this type of process: local/regional authorities that have to deal with environmental conflicts and engage the public and interested parties; local and grassroots associations based in regions with environmental conflicts that promotes participatory processes; protected area managers and management authorities of protected areas; foresters and Forest Services; environmental non-governmental organizations that play a role in environmental conflicts. Also, facilitators and mediators who want to know different case studies and approaches to the environmental conflicts around Europe.
Download PDF: Entry and Exit Points
Drop us a line or send us a message